I've had folks ask how things work writing a series, where the ideas come from, how it all fits together, so I decided to talk about that here today.
The Sentinel series -- actually, the first book,
A Hidden Magic
-- started out with a question. What if you could see magic in a world where nobody else could? Well, likely your first reaction would be, "There's something wrong." You wouldn't think, "Hey, look, goblins are real!" Your first thought (or mine, anyway) would be, "Holy sheep, I'm seeing things!" and to get to a doctor. Or if it happened when you were a kid, your parents would probably take you to a doctor. Because they have medication for people who see and hear things that aren't there.
Okay, that's an interesting notion, but I didn't think it was enough to base a story on. You need conflict, right? So what if you're in treatment for your mental disorder, but then someone came up to you and said, "No, seriously, it's all real." Sure.... Either they need meds too, or they're making fun of you, right? And that's exactly how Rory reacted.
That's
a nice personal conflict, and I ran with it from there. I'm a pantser -- I don't outline a book or story before I start writing, nor even write any significant plotting notes -- so I'll usually start with that kind of question or situation, and the story grows organically from there.
(One organically grown part that there was no room for in the novel was the continuation of the rainbow colored ass's ears scene, where Aubrey was teaching Cal a lesson, but they were interrupted before they could finish. Aubrey's not the sort of person who'd just let that go, so much later that night, after all the running around was done, and after Cal had put in a full evening's work at his restaurant, Aubrey picked up where they'd left off. It didn't fit as part of the novel, so it became the short story "Unfinished Business." I
had
to show what happened there, even if it had to be separated out. It's short and sexy and funny.)
The Sentinel novels are urban fantasy adventures with romantic subplots. So when AHM was finished, the adventure plot was done, but Rory and Paul were nowhere near an HEA. They'd only known each other for... well, it was like a week from Paul's point of view, and some unknown longer time from Rory's, but they'd only spent a few days of that time together. I try not to play the instalove card if I don't have to, so
A Hidden Magic
ends with a nice beginning to a relationship, but it's not really stable yet. Clearly the next book had to also focus on them, so we could see how they were doing and watch their relationship develop.
I still needed an adventure plot, so the question for
Emerging Magic
was, "What if Rory's mom knew that magic was real all along?" Well, that shines a whole new light on the last dozen years of Rory's life, doesn't it? More than that, actually, because he'd been seeing his doctor for a while before his father left. Rory suddenly isn't so sure he knows
why
his father left, so a major thread in
Emerging Magic
was Rory reconnecting with the dad he hadn't seen in twelve years.
Road trip! That sounded like fun, but there were some practical concerns that had to be dealt with. It didn't make sense for the
whole
gang to go along. Cal has a business to run. He has good employees, but he can't justify abandoning the restaurant at a moment's notice without a really good reason, and "Hey, let's go to Seattle and meet Rory's dad!" just isn't a good enough reason. Manny has a business too, and besides, Christmas is near and he has family who expect him to be around for the holiday. So it's only the three -- Rory, Paul and Aubrey -- who went to Seattle.
At first. [cough] It's funny, but when I initially sent the three guys to Seattle, I intended for them to be it. This would be their adventure, along with the new people they met there. But I was going along, writing Aubrey the way I always had, and when he met Rory's father, Nathan, and Nathan's friends, they didn't like him. I mean,
really
didn't like him. I had to take a step back and look at him objectively, through a stranger's eyes. I love Aubrey, and a lot of readers love him too, but he really
is
a bit of a jerk, isn't he? [facepalm] I couldn't exactly give him a personality transplant in the middle of Book Two of a series, so I ran with it. More people met him, and they didn't like him either. O_O Now what?? That resulted in Paul's desperate phone call to Cal. Meeting Rory's dad wasn't an emergency. Keeping the Seattle magic community from shunning them, making their investigation of the Magic Stuff that was going on ten times harder?
That
was enough of an emergency to pull Cal out of his restaurant for a while. So Cal flew up to Seattle, leaving Manny back home in San Jose to man the fort.
For Book Three, the obvious question was, "What was Manny doing back home on his own, while everyone else was up in Seattle?"
Captive Magic
came out of that, the need to leave Manny alone while everyone else was away having an adventure. A lot of folks who read
Emerging Magic
wanted to know "What about Manny?" and I've been reassuring them that they'd see in the next book.
Captive Magic
and
Emerging Magic
take place concurrently. That required some additional note-taking on my part so I could keep everything straight. I actually started CM before EM was done, although it was close. CM was my NaNoWriMo book for 2011, and I worked on both books that month. Good thing I did, too, because there were a few things I ended up changing in EM, because of things that happened in CM. Not huge things, but timing issues -- with Cal leaving, with phone calls and text messages -- needed to line up between the two. By the time
Emerging Magic
was released, I was about halfway through
Captive Magic,
so the rest of it was written with the events in EM set in stone, unchangeable. Having to work around that was tough in some ways, especially since the story in
Captive Magic
took longer, chronologically, than I'd originally imagined it would.
Ideally, for the sake of the two stories, I'd have written both, adjusting each one to allow for the needs of the other, and then submitted them together. On a practical level, though, that would've meant that
Emerging Magic
would just be coming out about now, with
Captive Magic
probably scheduled for a few months in the future. That would've meant a little over three years between the first and second novels in the series. I don't think that would've worked very well. People would be going, "Magic what?" at this point. [wry smile]
So Manny got his solo adventure. But it couldn't actually be solo, could it? These might be primarily adventure stories, but they're also romantic and that requires at least one other person. Enter Breck.
In actuality, Breck Bayes was a character in the original version of
A Hidden Magic.
A friend who read it before I submitted it to Torquere pointed out that Breck didn't really
do
anything. He was the group taxi and that was about it. He didn't even have many lines.
Well, crud. I looked over the story and realized they were right. Breck didn't have enough impact on the story to justify a Major Supporting Character position, so I ripped him out. It was hard at first, because I liked him a lot, even if I hadn't done much with him. But pulling him out of the first story gave me the opportunity to show Breck and Manny meeting and getting to know each other and falling for each other, on stage rather than as backstory. That's
Captive Magic,
and I had a blast writing it. I'm glad I got to share it with everyone, and I hope you enjoy reading it.
Teleporter Breck Bayes made a deal with a demon to save the life of his little sister Amanda, who was dying of cancer. The demon expects Breck to work off the debt -- as a thief who can get past any walls or locks. If Breck balks, Amanda's cancer will come back, and she'll die. Breck's a good guy, but a few trinkets versus Amanda's life? It's no contest.

Manny hears about Breck's popping around town and uses his own talents to find and confront him. Sentinels are supposed to prevent the magegifted from using their talents to steal, by force if necessary, but then he gets the whole story. Manny understands family, and he decides that his Sentinel persona is going to have to suck it up and deal while he helps Breck get out from under the demon -- even if it means becoming an accomplice to the thieving while they plot Breck's escape. But then the demon notices Manny, whose truesight and seeking would be very useful in its quest to own things that don't properly belong to it, and suddenly it's not only Breck who's in trouble.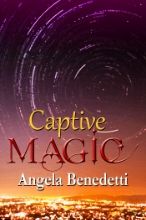 Click the cover photo to buy at Torquere, where all the other books in the series are currently 20% off.
Captive Magic
also currently available on
Amazon
,
Amazon UK
,
ARe
,
Rainbow eBooks
,
Smashwords
(with a 38-page sample), and
Bookstrand
. There's an entry for it on
Goodreads
, for folks who use that site.