I'm Del Darcy, here to talk about my new YA release, "Fair Catch".
I hope you enjoyed the teaser posted a couple of days ago, and that it did its job, as well as the "missing scene," which took place in New Orleans when one of the protagonists, Alex, had just helped his team to victory in my fictionalized version of the Sugar Bowl. His team, the Southwestern Lone Stars, doesn't really exist, but Austin, Texas, certainly does! Much of the book is set in Texas and parts north, where football is pretty much a lifestyle. And of course, the sport is centrally important to the young lovers, Alex and Blake.
There's a lot of football in the book. I worried at first that there was too much. But I tried to balance the expert knowledge that Blake and Alex have of the game they love, with making the football scenes accessible to someone who might be open to reading about football but not know much about it.
Since I never played football, how did I do this? I went to a lot of games and watched a lot of televised games, high school and college. I shamelessly grilled my husband, who did play briefly as a teenager, and also grilled my relatives who are former players. I read a lot of sports reports from newspapers, and used actual plays and histories from games that were happening at the time I was writing.When it came to Alex's field goals, I went online to check high school records in several states, and had long talks with some of my sports-fan buddies about how field goals are measured and what a plausible record would be for someone in Alex's situation.
I hope I've managed to convey, and rub off, my own delight in football at the high school and college level.
Now, time has moved on, and no one in my family is playing high school football any more. Mostly these days I follow Oklahoma college football, and am always in the precarious position of being in a house divided -- half my friends and family root for Oklahoma, and half for Oklahoma State! A problem my protagonists and their families don't have, living in my mythical college town of Riverside, where there's only one hometown team, and everyone can agree on it.
Football and romance -- I hope the book has something for everyone!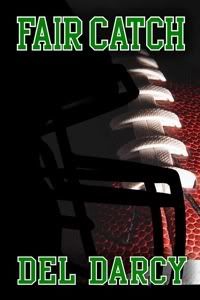 a new release from Torquere/Prizm