Well, the day got away from me. That's all I can say. So, while I didn't get a nap, I didn't get that much done, either.
Since it's been so quiet, I have only two names to announce right now as winners: Megamie T, and Lisa. Write to me at
jjmassa@gmail.com
and I'll send you an e-copy of whichever one of my Torquere books you'd like.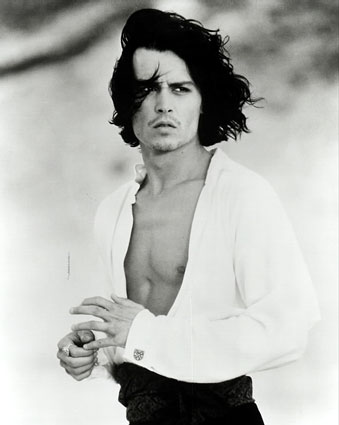 I promised a peek --an excerpt for my next story, so here it is--and to help you visualize, Zimi's looks are something in the neighborhood of Don Juan DeMarco, done in a nice cafe au lait.
Ebon, the man who finds his spur-of-the-moment escape complicated by Zimi, looks a lot like a young Robert Redford--or Brad Pitt--whichever you prefer ; -)
So, here we are:
Rainy Day Lover
Sometimes a man just needs a break--something for a rainy day. There aren't many rainy days in Denver, though.
Louisiana averages 114 inches of rain each year. What better place to find--or be--a rainy day lover?
1- Je Te Veux
Everyone needs something special for a rainy day. Their meeting might not save the world, but who knows? It just might.
Excerpt:
"Je te veux," Zimi said finally, attempting once again to scoot away.
Something stirred in Cliff's memory, a song by composer Erik Satie, Gilbert Becaud, his mother's not-so-secret crush-- Je te veux. I want you. Cliff could work with that. He allowed his hand to relax a little, no longer pressing, simply resting against Zimi's chest.
"I'd like you to stay," he murmured, sweeping his thumb in a small arc across Zimi's flat nipple in an unmistakable message.
Swallowing audibly, eyes glued once again to Cliff's, Zimi rasped, "How you called?
Tu nom
?"
"My name? Oh, we never got that far, did we?" Cliff remembered, a little embarrassed. "My given name is Ebenezer …"
"Ee-bon-a-zay," Zimi repeated, applying his own accent to the appellation. "Ebon."
Zimi's voice caressed the letters and syllables, tasting, savoring, rolling the name around in his mouth and testing it with his tongue. The sensual baritone caressed his name, a name he'd never liked, stretched it, and made it seductive, luxurious.
Cliff really had planned to tell him his real name--the name he went by…sort of. It wasn't as if Ebenezer wasn't his actual, real name. It was a family name, a relic. He'd been christened Ebenezer Clifton Moss, after all. His father hadn't liked the name Ebenezer, thus, he had been called Cliff all of his life. Tonight, he would be Ebenezer--Ebon.